Patio Covers
Patio covers are a type of structure designed to provide shade over your patio. It gives you the versatility to create shade as well as protection from the elements. Most patio covers are attached to your house, but can be built to stand alone.
At Kool Breeze Inc., we custom build our patio covers to meet your specific needs. We carry a large variety of styles, colors, and materials, for your selection. Our deeper patio cover V panels (3 1/2" X 12" wide) are 26 ga. Galvanized steel with a baked on acrylic finish. The panel is currently offered in white and cream color. Our patio cover incorporates the deeper pan and a rain gutter system allowing for easier cleaning. This eliminates accumulation of debris which leads to blockage and ice buildup in the winter months.
Kool Breeze Inc. is the only company in Utah manufacturing their own materials. This means your warranty is honored by us, not some manufacturer in another state.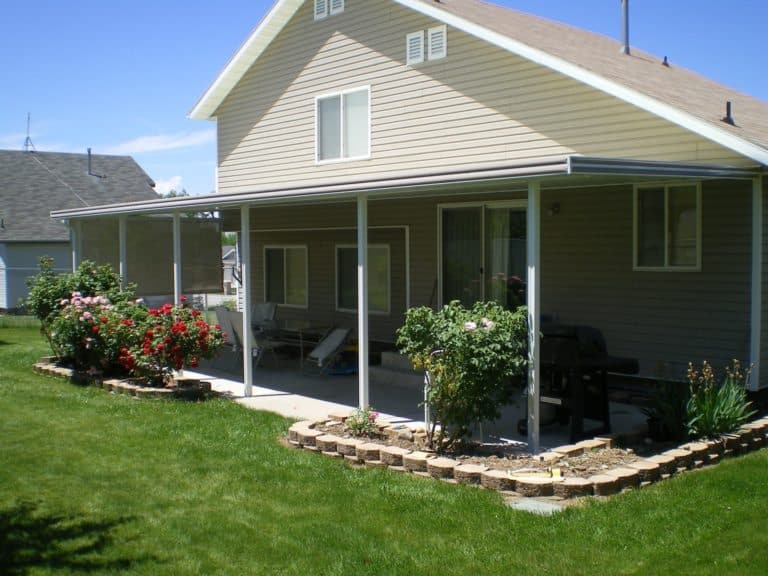 Insulated Patio Covers
Insulated laminated roof panels (LRP) are manufactured with high density expanded polystyrene cores (EPS) that are uniformly bonded between two heavy gauge textured aluminum skins. This results in a one piece insulated panel system, creating a patio cover with superior strength, long term durability, high performance insulating characteristics, and a pleasing aesthetic appeal that will enhance your outdoor living area.
"V" Pan Patio Covers
Our 3 1/2″ deep 12″ wide steel V panel is galvanized and zinc dipped with a polyurethane finish. It is offered in two colors; white and ivory. It is also offered in two thicknesses; 24 ga. and 26 ga. steel. This panel is offered with our extruded clean out gutter system which is the thickest in the industry. This panel is made right here in Ogden at Kool Breeze,, which means your warranty is held right here with us.
Wrap Kits
Our wrap kits can be used with our steel "v" pan covers or our insulated covers. Wrap kits are designed to go on the outer edge of your cover to give it the Pergola look. Wrap kits can also be used on the poles to give it that bulkier look. Wrap kits are made from 2 x 6 material and finished with a kynar 500 finish, which helps prevent fading and staining while maintaining its durability. Here at Kool Breeze Inc., we offer a variety of colors and end cut options. Wrap kits can also be used with an optional 3 x 8 beam. Our patio covers, including wrap kits, come with a lifetime limited warranty.
Commercial Patio Covers
Commercial covers offer a large number of different applications. We offer covers that protect equipment from the harsh elements, smoking shelters, loading dock coverings, park pavilions and shelters and entryway and walkway coverings. There are many different materials to choose from to fit your needs.